My Three Favorite Pregnancy Smoothies
Happy smoothie season, everyone! I personally drink the frozen fruity concoctions year-round, but for those of you just firing up the blenders for spring, I thought I'd share my formula for the perfect 12-ounce smoothie, as well as three of my favorite recipes that are especially beneficial for pregnant women — not to mention tasty, refreshing and filling.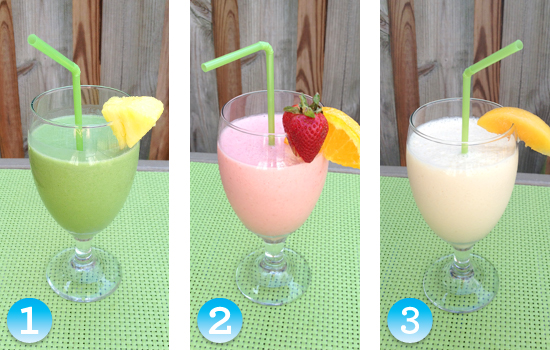 Homemade smoothies can pack quite a nutritional punch for you and your baby, and they're great for breakfast, an afternoon snack or a late-night treat. I've found that 12 ounces is just the right amount for me, and I use the following basic lineup of ingredients: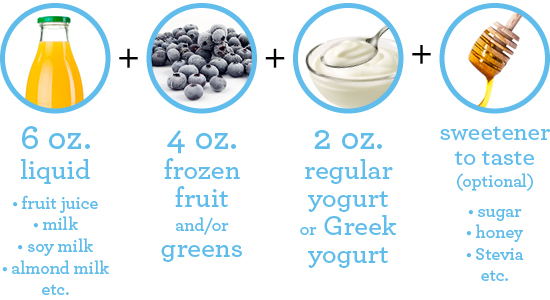 I set my blender carafe on a kitchen scale to measure everything in ounces as I add it, since it's easiest and most accurate that way. I start my blender on the lowest speed and gradually increase it until the mixture is nice and smooth, after about 30 to 45 seconds.
You could create literally millions of different smoothie variations based on this formula, but here are three healthy combinations to help get you started.
1) Yellow-Green Tropical Smoothie
6 ounces pineapple juice
3 ounces frozen mango
2 ounces coconut vanilla Greek yogurt (Oikos makes this flavor)
1 ounce frozen spinach
sweetener to taste (optional)
Why It's Good For You
Eating Well When You're Expecting recommends that pregnant women consume three to four servings of green and yellow vegetables and fruits daily because they're rich in beta-carotene, fiber and many essential minerals. The mango and spinach in this smoothie count for at least one serving; plus, you get protein and calcium from the Greek yogurt, and Vitamin C from the pineapple juice.
Now, I'm not going to lie to you — you can taste the greens. If you want your smoothie to remind you more of relaxing on the beach than mowing the lawn, use four ounces of mango and skip the spinach, or start with just a little spinach and work your way up.
2) Vitamin-C-Packed Strawberry-Orange Smoothie
4 ounces frozen strawberries
4 ounces orange juice
2 ounces milk
2 ounces plain greek yogurt
sweetener to taste (optional)
Why It's Good For You
Strawberries and orange juice are both excellent sources of Vitamin C, which is one of the most important vitamins for expecting moms. Among other attributes, Eating Well says it's essential to the production of collagen for your developing baby, it helps in the absorption of iron, and it may help you resist infection. The milk in this smoothie pumps up the calcium content and gives it a smooth, creamy taste.
3) Stomach-Soothing Peach Ginger Smoothie
6 ounces milk
4 ounces frozen peaches
2 ounces vanilla greek yogurt
1/4 teaspoon powdered ginger
sweetener to taste (optional)
Why It's Good For You
Peaches count as a yellow fruit (mentioned above), and they pair perfectly with ginger, which may ease nausea and aid digestion. This smoothie is also loaded with calcium, with is crucial for your baby's bones as well as yours. This is the one you'll want to blend up when nausea or heartburn is preventing you from eating much "real food."
Enjoy, and let me know what other combinations you come up with!
---
Mollee and her husband, Matt, live in Midlothian, Virginia, and are eagerly awaiting the arrival of their first baby (a girl!) in May 2013. (Check out her baby guessing game here.) Although she helps pay the bills by doing graphic design, Mollee's true passion is for making things with her hands. Find more of her recipes, paintings and crafts at molleemade.com.
---
fruit
,
pregnancy recipes
,
pregnancy smoothies
,
recipe
,
recipes
,
smoothie