Pregnancy Journaling: Recording Your Journey into Motherhood (& Journal Giveaway too!)
*** This contest is over. Congratulations to the winners! ***
The Journal winners are:
1) Susan Smoaks
2)  Michelle (comment #17)
3) Valerie Taylor Mabrey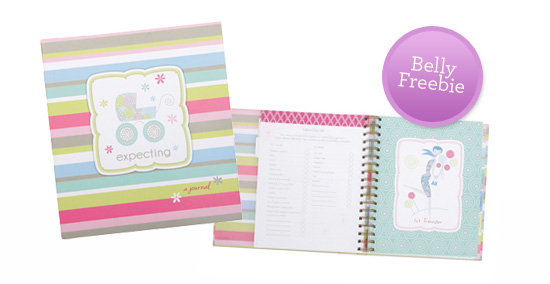 One of the best routines I began early on in my pregnancy is journaling. I am not someone who normally writes in a journal, but I wanted a way to remember all of the experiences I was about to have, and a journal seemed like the best option.
At a little over halfway through my pregnancy, my journal is already a treasure. It is amazing to look back through my journey so far and dream about what is yet to come. I am so thankful that I started journaling right away; although it is not too late for you, no matter where you are in your pregnancy.
For someone like myself who is not typically into journaling, starting a journal was intimidating. The first time I opened up my journal and saw hundreds of blank pages staring back at me, I wasn't sure where to begin, and I honestly felt a little awkward writing down my feelings and thoughts.
I started my journal right after I had a positive pregnancy test. Not sure where to begin, I decided to just jump in and start writing to see what I came up with.
Using a blank journal has allowed me the freedom to write as much or as little as I would like. I have been able to organize it in a way that works for me as I reflect on my pregnancy.
The basic format I follow in my journal is to create a new section for each week of my pregnancy. I label the page with the day of the week, date, and the number of weeks pregnant that I am. Underneath of that I write a variety of things.
Topics about which I write include:
Physical symptoms
Emotions
Cravings
Pregnancy milestones (getting my bump, wearing maternity clothes for the first time, finding out the gender of our baby, feeling baby kick for the first time, etc.)
Doctor's appointments
Feelings and experiences happening in my life that are not pregnancy related
Questions for my doctor which I mark with a sticky tab for easy reference at my appointments (This has been so helpful!)
If you would like to try using a blank journal, here are some beautiful blank notebook journals: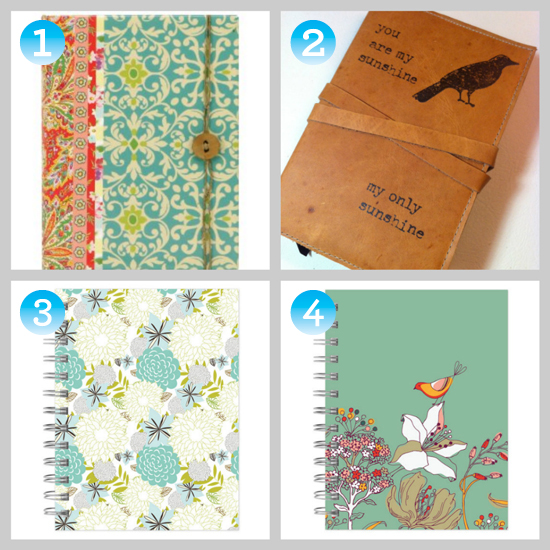 1) C.R. Gibson's Penny Lane Bound Personal Journal
2) You Are My Sunshine Handprinted Leather Journal
3) Lined Spiral Journal Notebook in Teal Floral Pattern
4) Lined Spiral Journal Notebook in Colourful Bird Pattern
If you prefer more of a guided journaling approach, there are some wonderful options for pre-made pregnancy journals. These journals include prompts with space for recording your answers. Some journals have space for pictures and mementos. Here are some great choices: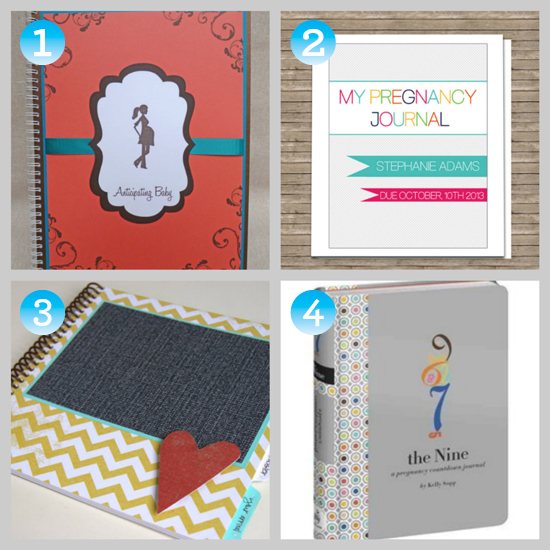 1) "Anticipating Baby" Pregnancy Journal Book
2) Pregnancy Journal Planner or Binder
3) Pregnancy Journal in Gender Neutral Cover Design — Heart
4) The Nine: A Pregnancy Countdown Journal 
No matter how you decide to do it — a blank journal or a pre-made pregnancy journal — I encourage you to start a pregnancy journal as soon as possible. Whether you are five weeks pregnant or 25, it is not too late to record your memories. There is no right or wrong way to organize and use your journal. Do what feels right for you and record anything and everything that comes to mind. What seems silly or trivial now will most likely be a treasured memory down the road. Make sure to leave space for adding sonogram pictures, weekly/monthly bump pictures, and any other keepsakes you have.
Maybe it's the "pregnancy brain," but I already feel like it's hard to remember my exact thoughts and feelings during those early weeks of pregnancy. It is so wonderful to be able to turn back the pages in my journal and relive them. I can only imagine how meaningful this journal will be to me in the years to come.
How about a free journal to get started?
If you're reading this article, I'm guessing you are interested in starting a journal of your own. (Or, maybe you know someone who might want one.) Well, we are lucky enough to have three different journals to give away!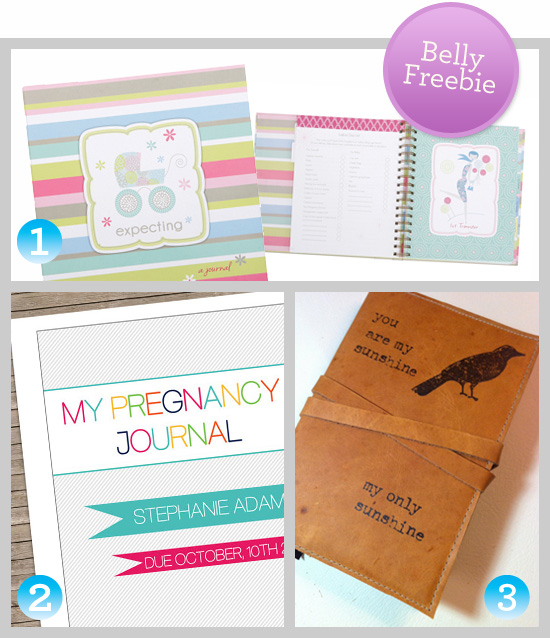 1) C.R. Gibson's Pregnancy Journal — Expectant Stripes
2) Pregnancy Journal/Planner by Stephanie Adams (PDF to self-print)
3) Leather Pregnancy Journal by Mary Lynn Schroeder
Here is how you can win:
Prizes: The 3 different pregnancy journals featured above.
To enter: Leave a comment on this post with the words "Get my journal started!" and…
Bonus question: Tell us if you're new to journaling or need another journal to continue recording your memeories. If the book isn't for you, feel free to share that. Also, we'd love to know what you'll record in your journal.
Number of winners: 3
Shipping: This prize can only be shipped to the U.S. (Sorry, we're working on getting some giveaways that are available outside the United States.)
Deadline: Tuesday, March 12 at 8PM EST.
Problems? email morgan@whatsinmybelly.com
Other Details: One entry per e-mail address is permitted. The winners will be selected using random.org and announced on Tuesday as an update to this post. So, head back here on Tuesday for the announcement of our winners. Since we have three different items to giveaway, the first winner gets first pick, the second winner gets to pick from what's left, and the third winner gets the remaining journal. Good luck…
---
Sarah and her husband, Britt, live in Glen Allen, Virginia, and are expecting their first baby (a sweet girl!) in June 2013. Sarah is a kindergarten teacher and has a home-based business, both of which keep her very busy. She unwinds by sharing her adventures in cooking, decorating and life on her blog, A T-Shirt and Pearls.
---
baby journal
,
belly freebie
,
daily
,
day book
,
daybook
,
journal
,
journal of pregnancy
,
journal on pregnancy
,
journaling
,
log
,
pregnancy
,
pregnancy advice
,
pregnancy diary
,
pregnancy ideas
,
pregnancy journal
,
pregnancy journaling
,
record
,
save your memories