Seven Push Presents I Would Love to Receive
Aside from the moment when I'll get to meet my baby girl for the first time, receiving a push present from my husband is probably the only aspect of labor and delivery I'm looking forward to. Granted, he's already been very good to me throughout my pregnancy by going out for special treats I'm craving, helping me around the house and giving me back rubs, but I feel like after performing the act of childbirth, I'll deserve something extra special. More and more moms-to-be in the United States must feel the same way because the custom of push-present giving has become increasingly popular in recent years.
Here are seven items representing a variety of price points that would make all the contracting, dilating, effacing — and of course, pushing — worth it (not that I expect all of them, of course).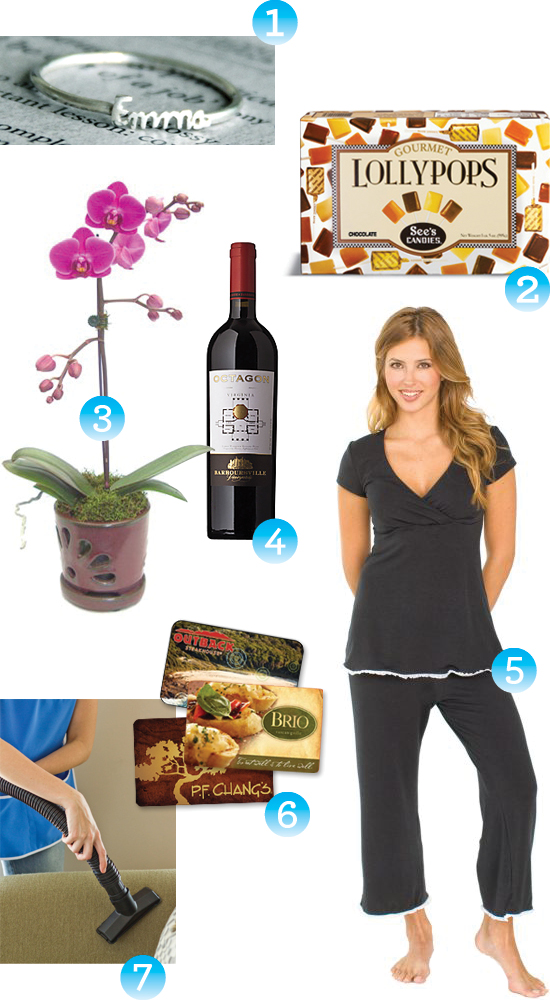 1) Handwriting Silver Name Ring from Silver Promo Fine Jewelry, $30
I don't care for any excessive bling — I just want a personal piece of jewelry that represents our baby girl. And what better way to do that than with a sterling silver ring with her name in a handwritten-style font? It can even be stacked with additional rings as your family expands.
2) Assorted Gourmet Lollypops from See's Candies, $16.75
Made from heavy cream, butter, and flavors of vanilla, coffee, chocolate and butterscotch, these lollypops put regular suckers to shame. Sometimes you're not allowed to have real food after childbirth, but surely one of these would be allowed, and it would be a welcome treat after hours of ingesting nothing but ice chips.
3) Purple Orchid in Asian Ceramic Planter from 1888Orchids.com, $49.95
Unlike mixed pastel-colored flower arrangements that are sold for exorbitant amounts of money in hospital gift shops and quickly die, orchid plants can live for years with proper care. This blooming Phalaenopsis is just 12 inches tall, but it'll continue to grow and blossom just like a newborn baby. Say it with me: "Aww."
4) Bottle of fine wine (My pick: Barboursville Octagon by Barboursville Vineyards, available at Total Wine for $44.99)
I don't mean to sound like a lush, but after just seven months of sobriety, I'm already hankering for a sip of delicious red, and I'll certainly be ready for a drink after the trauma of labor and delivery. If your sweetie is more into liquor, beer or another special beverage, that works too.
5) The Lacey MJ Black Nursing Pajamas by Majamas, available at Figure 8 Maternity with free shipping for $62)
These pajamas strike a nice balance between sexy lingerie and nasty old sweats, and they're equipped with breast pad pockets and pull-aside nursing access. For moms who aren't planning to breastfeed, any nice pajama set will do — just don't buy her a corset and lace thong, or you might have to sleep on the couch.
6) Restaurant gift cards (the ones pictured are from Outback, Brio and P.F. Chang's), amounts can vary
The gift of not cooking dinner is invaluable to a tired new mom. Heck, it's invaluable to this tired pregnant lady! I'd love to have a gift card (or two or three to choose from) that I could cash in for some takeout or a nice night out once I'm ready.
7) House Cleaning Service (popular national companies include Molly Maid, Merry Maids and Maid Brigade)
I think I'd rather have a maid than diamond earrings. A one-time cleaning can run you anywhere from $75 to $400, depending on the size of your home, and an ongoing bi-weekly service can add up to even more, but the extra time she'll have to focus on her new bundle of joy will be worth it in her eyes, especially if she's going back to work.
Hopefully that gives the expectant dads and partners out there some good ideas. Ladies, what kind of push present are you hoping for?
---
NOTE: This post is the opinion of Mollee and none of the products featured here are sponsors or direct advertisers of WhatsInMyBelly.com
---
Mollee and her husband, Matt, live in Midlothian, Virginia, and are eagerly awaiting the arrival of their first baby (a girl!) in May 2013. (Check out her baby guessing game here.) Although she helps pay the bills by doing graphic design, Mollee's true passion is for making things with her hands. Find more of her recipes, paintings and crafts at molleemade.com.
---
Barboursville Octagon
,
cheap gift
,
Figure 8 Maternity
,
gift cards
,
gift ideas
,
gifts
,
gourmet lollypops
,
house cleaning
,
jewelry
,
Majamas
,
nursing pajamas
,
orchid
,
push present
,
See's Candies
,
silver
,
silver ring
,
Total Wine
,
wine