A Beginner's Guide to Cloth Diapering (Part 1 of 2)
When I found out I was pregnant with my second child in 2012, I immediately wanted to research my options in the cloth diapering department. My top two reasons are the ones that most likely come to your mind: saving money and being kinder to the environment.
My cloth diaper journey was full of research at the beginning, and still is today. If you type "cloth diapering" into a search engine, you get tons of websites, blogs, videos and pictures. It was a good thing I had nine months to learn the ins and outs and do's and don'ts! I highly suggest doing as much of your own cloth diaper research as you can.
I am not a cloth diapering expert by any means — just one mommy passing on my experiences to other moms and moms-to-be. When my now-two-month-old son was a newborn, I continued to use disposable diapers at night so that all the frequent changes were quick and painless (every little bit of sleep counts!). Remember that cloth diapering is not an all-or-nothing venture, and do what works best for you!
Cloth diapering is definitely worth looking into, and hopefully this blog post will give you a foundation of general information as you begin to navigate through the cloth diaper world.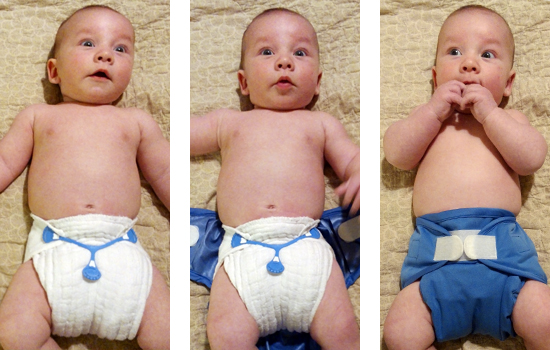 Goodbye Old-School Safety Pins, Cloth Prefolds and Plastic Balloon Pants
Meet Snappis
Whoever invented Snappi diaper fasteners to replace safety pins is a genius. They are only used with prefold cloth diapers, so you won't need them for all the cloth diapering systems offered today. They have plastic teeth that grip the cloth diaper to keep it securely in place — no more fears of sharp pins sticking your precious little one!
More Options for Prefolds
Your basic 100 percent cotton prefold cloth diapers are still sold in almost every baby store or department, but online, particularly on amazon.com, you can find the basics as well as more high-quality options. Many independent companies make their own prefolds, boasting better absorbency, fit, and overall wear and tear. Remember that if you plan to use Snappis, the cotton and "weave" patterns are the ones that Snappis grip to. There are also prefolds made of hemp, bamboo and wool, which are all very absorbent materials.
Diaper Covers in Cute Colors and Patterns
Welcome to the addicting world of colorful patterned diapers! "The cute factor" is what draws many moms to cloth diapering. I know I'm constantly aware of the new patterns and colors that come out, so I keep wanting to buy them. A lot of other cloth diaper moms are the same way, and I think it helps brings us together. Who doesn't want their little one's bum to look good?
Plastic or rubber ballooning covers from the old days are gone! Cloth diapers always add a little more "poof" to a baby's behind than disposables, but in my experience, they fit just fine under baby clothes. Some brands will try to sell you on a more trim-looking fit, but I've never noticed that big of a difference from one brand to another.
You may be wondering, If it's not plastic or rubber, then what is it? The most common material used for cloth diaper covers is a PUL fabric (polyester/polyurethane laminate). The first benefit of PUL material is that it's waterproof. Important, right? YES. It is also washable, breathable (important to prevent diaper rashes), and hypoallergenic. This is reassuring because I have heard stories of babies with sensitive skin being allergic to the materials used in disposable diapers. Different cloth diaper fabrics are used by other brands, but they are all waterproof and comfortable for babies.
New cloth diapering systems
The following is a list of several contemporary cloth diapering methods with two example brands listed for each, which I encourage you to research further yourself.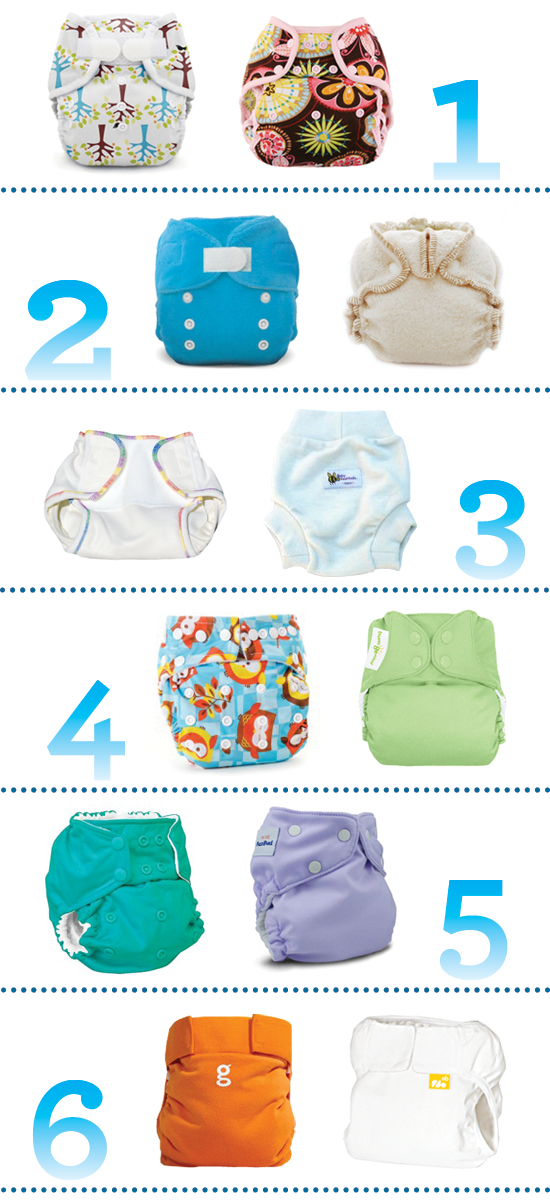 I hope this was enough to interest you in cloth diapering and possibly get you in the door! Here are some additional resources to help you with your continued research:
www.kellyscloset.com
www.diaperjunction.com
www.theclothdiaperwhisperer.com
YouTube editorial "Cloth Diapering 101"
---
---
About Kristin
Kristin and her family, husband John, six year old Johnny, and their new recent addition baby Joey, live on a small farm near Doswell, Virginia. She has a love for nature, animals, and teaching children how to ride horses and connect with animals. She encourages her family to embrace the outdoors to help balance out an increasingly technological world. Anything more simple, natural, and down to earth is always of interest for her to investigate when it comes to the over all health of her family.
---
Thanks to Mollee for editing and creating the numbered cloth diaper graphic!
baby
,
Baby Behinds
,
Biobottoms
,
Blueberry
,
Bumgenius
,
Bumkins
,
cloth diapers
,
environment
,
Fuzzibunz
,
gDiapers
,
how to
,
Kissaluvs
,
kristin fitzgerald
,
Mabu Baby
,
parenting
,
parenting tips
,
Rumparooz
,
saving money
,
Snappi
,
Thirsties
,
wool covers