Congratulations Bowers and Baby Pool Winners!
First off, a huge congratulations to the Bower Family! They are now a family of 4 after welcoming Weston to the world.
Ok, so I'm a little way behind on this post, but it's time to congratulate the winners of the Bower Baby Pool! As some of you may know, Katie Bower was nice enough to run an open baby pool here at WhatsInMyBelly.com and we offered up some prizes for the top 3 winners. (If you missed it, here is the original post about the whole deal.)
Well, we were shocked to see how many people jumped into the pool. Here is a breakdown of all the numbers:
Total Participants: 907
Total Guesses: 763
We're not quite sure why people joined the pool, but didn't submit a guess. If you were one of those people, leave a comment here and let us know. We already have some changes in the works for the game, and any comments we get help us fine tune it, so please share your opinions – good or bad!
So, Katie's due date was originally November 5. As with many pregnancies, that day came and went and as she closed in on 2 weeks late, they went ahead and called in some magic to move things along. Weston Bower was born on November 18, showing all 763 of us that we are not very good at predicting the future. Maybe the 144 people who joined the pool, but didn't submit their guess had it right? But, no one guessed the right day this time around (the last guess was November 15), but as always, there is still a winner due to our point system.
I also have to make a comment on the baby weight. Since Weston was brewing so long he arrived at a grand total of 10 pounds and 3 ounces! Most people did not guess that high, but there were a few who got it right: Karen Brown (11th) and Nicole Ruehlow (322nd).
To see the full list of guesses and see how everyone did, click here (you'll need to log in to see the full scoreboard).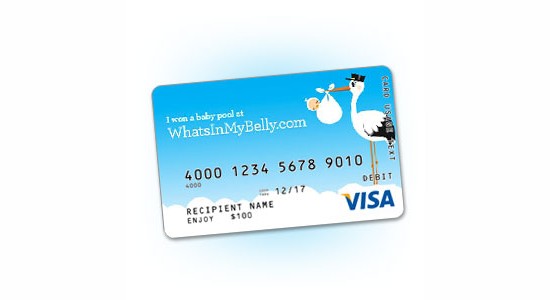 Now, on to the winners:
1st Place ($100 Visa Gift Card)
Holly McGee Austin (Monroe, NC)
499 points
2nd Place ($50 Visa Gift Card)
Laura Shilling (Battle Creek, MI)
422 points
3rd Place ($25 Visa Gift Card)
Ashley Davis (Pleasant Grove, UT)
406 points
Laura, if you're reading this, email me! We need your mailing address to get your prize out! morgan@whatsinmybelly.com.
And we can't play this game with out poking some fun at the person who came in dead last. Looking at the results the person who came in last was… Katie B. And I think that was Katie testing out the site and putting in something crazy so she didn't win her own pool. So, the official dead-last winner is:
Last Place (Surprise coming your way!)
Massie Bailey (Buffalo Junction, VA)
30 points
I should probably add in a disclaimer here – I'm good friends with Massie. I have to call her out for not doing her research because she guessed it was a girl, when we already knew it was a boy! Good work, Massie! You will get a surprise in your mailbox soon!
baby pool
,
baby pool winners
,
birth
,
Bower Power Blog
,
gift card
,
pregnancy
,
prizes
,
visa gift card