Have We Mentioned We Love The Bower Power?
Before you read this post, if you don't know about the Bower Power Baby Pool and the prizes that go with it, please click here to learn about the Bower Baby Pool.
Moving on…
First, I have to say, I love Katie Bower and her Bower Power Blog. Back in August, I was reading her blog and saw that she was expecting baby #2. So, I contacted her on Facebook and asked if she wanted to run a pool on WhatsInMyBelly.com for her readers. We offered to put up some prizes to make it a little more fun for everyone. Knowing how popular her blog was, I kind of expected her to either not respond at all or come back with a "sure… but what's in it for me?" Instead, she responded and said she'd love to do it and was excited that her readers would have the chance to get some prizes.
Now, I expected this to be a little popular and drive some new visitors to our website (hopefully a few of which would be pregnant and start a pool of their own), but the response we've gotten has been well beyond our expectations.
We launched the first version of WhatsInMyBelly back in March and it's now in version 2. The website was steadily growing as search engines began to pick it up, and other local media outlets like RichmondMom.com and Macaroni Kid Richmond began to mention us. We're very thankful for any mention we get out there, but when Katie mentioned her baby pool at the end of this post, our traffic exploded immediately. So much so, that people trying to make a guess in her pool took the site down for about an hour until Daniel worked his magic and got things running again.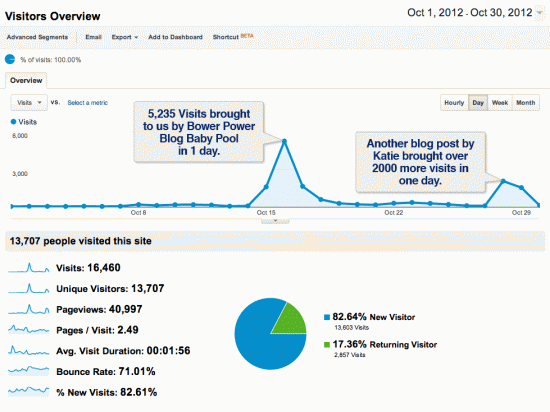 October has been a huge month for our website in general, but most of that is due to Katie's baby pool, which now has 729 predictions. This surpasses my baby pool which held the lead at… 56 predictions (weak, I know). As you can see in the screenshot above, each time Katie mentioned her baby pool on our website, the traffic skyrocketed. Even after the mention we noticed about double the traffic we usually get on an single day.
So, to say the least, we love Katie Bower and her website, and we simply can't do enough to thank her for running her baby pool on our website. 
There is Still A Little Time to Join the Bower Baby Pool
Now I also have to mention, if you are reading this before midnight on Halloween, and you haven't made a guess in her pool, we extended the original deadline to midnight on October 31, so head on over to her pool and make a prediction for your chance to win one of 3 Visa Gift Cards. When you're done with that go bookmark her blog – it's well worth the read.
Are You an Expectant Blogger?
So, with the huge success of the Bower Power Baby Pool, I think it goes without saying that we want to do this again. If you have a blog (don't worry about how many readers you have) and you're expecting, please e-mail me. We simply don't have the cash to offer prizes for every pool out there, but if bloggers are using our website and linking to us, we'd like to thank you in some way. If anything, we can link back to your blog. So, get in touch with me and let me know if you have a website and you're running a pool with us. Send me an e-mail: morgan@whatsinmybelly.com
One More Thing – Tell Us What You Want
This is a bit off topic for this blog post, but we are currently planning the next changes and upgrades to WhatsInMyBelly.com and we want to know what you, the users, would like to see improved on the website. If you have a second, please take this survey. The only required fields are the ones where you pick the new features you like the most, so it will literally only take you a few seconds to do it. Your answers will help us decide what to add to the website next.
baby office pool
,
baby pool
,
Bower Power Blog
,
fun
,
history
,
pregnancy
,
whatsinmybelly.com