Join the Bower Power Baby Pool and Win Some Moola
Being both a parent and small business owner, I love seeing everyday people creating something great. That is exactly what, Georgia natives, Katie and Jeremy Bower have done. In June of 2008, Katie created a simple blog to make it easier to share daily events with family and friends. Today, just under 4 years later, The Bower Power Blog has over 800,000 views every month, they've been featured on the House Proud segment on The Nate Show, they've been awarded Apartment Therapy's Homies Award for Best Home Design blog, and they placed as 1st runner up for Apartment Therapy's Homies award for Best DIY blog this year.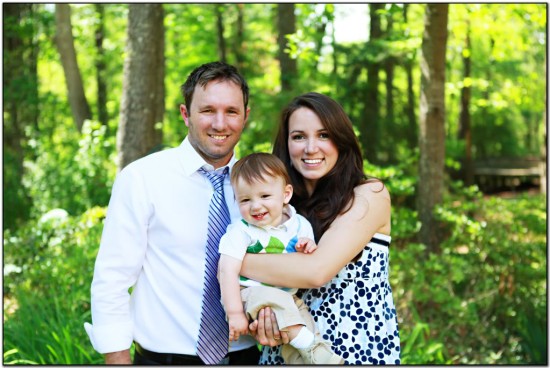 On top of running their blog, raising their son Will, and being a professional photographer, Katie is expecting baby #2 in early November. We thought this would be  the perfect opportunity to start our Expectant Parents Spotlight. At WhatsInMyBelly.com, we want to feature Expectant Parents who are taking advantage of every day and doing great things – all while growing their family. If you or someone you know would be a good Featured Expectant Parent, shoot me an email – info@whatsinmybelly.com.
As part of our first featured parents, we asked The Bowers a few questions about pregnancy, parenting and life in general. Here is what they said:
---
1. So, tell us about the Bowers. Who are you guys in a nutshell?
We are just average run-of-the-mill folks that are like everyone else out there – working hard and playing hard
  We actually met on a blind date and it was the perfect unexpected beginning to a life full of surprises.  I think if you had to describe us to perfect strangers, I would say that Jeremy works in sales and I am a stay-at-home mom who plays photographer who also blogs…we both have amazing families and hope to teach our kids to love God, their country, their family and others.  And 80′s music
2. You already have one son, Will, so you have been through pregnancy and early parenthood. What is the #1 best tip you could give to parents who are expecting their first child?
"This too shall pass."  It works both ways – the bad stuff (like the sleep deprivation, the morning sickness, the cholic) eventually it will pass.  But so will the good stuff – the sleepy baby bubbles, the slow crawling, the fat rolls on fat rolls…it all flies by so it's just the perfect advise to cherish each moment.
3. Did you do anything special or creative to announce pregnancy 1 and 2?
I told Jeremy about our first with a slideshow. We surprised Jeremy's dad & stepmom with a couple Gramps & Grammy t-shirts.  I videotaped our #2 announcement just so I could remember his face.  We tried for a longer time with our second so it was definitely more exciting. [Katie announced her pregnancy on her blog in a this heart-felt video. And more about their pregnancy announcements here.]
4. You have been through a few baby showers by now, so what is your best baby shower tip? What is your favorite event or game that anyone could add into their shower?
Best baby shower tip?  Probably to not register for a single toy.  Toys will inevitably become part of your house…and they are cheap.  Diapers on the other hand…notsomuch.
As for my favorite baby shower event – I love the idea of birthday cards.  Each person gets a blank notecard and draws a number between 1-18.  They then write a note for the baby to open on that birthday.  It's such a special thing to see what family & friends were wishing you before you were even born.
5. Most of these questions seem to be geared more towards Katie, so we have to get Dad involved here. Jeremy, becoming a father is an exciting (and stressful) time. What is the #1 tip you would give to guys out there who are going to become a father for the first time?
Be willing to help without being asked.  Do things you wouldn't normally do, just to help out around the house.  If you have an older child, be aware that you might need to spend a lot more time at first caring for them when the newborn arrives.  Arrange for help for your wife if she normally does cleaning, cooking and laundry.  And frequently remind her that she is beautiful and that she is doing a great job.
6. My son is 2 1/2 and like everyone says about 2 year-olds, he has his "Terrible 2″ moments. So, I have to ask all parents this: What is your favorite way to get your toddler to burn off some energy? And, when he does act out, how do you handle it?
We love cousin time, play dates and swimming at Nana's house to burn off energy!  And Will lives up to his name – he is very willful.  So when he acts out, internally we question everything we know about discipline and want to curl up in the fetal position and quit….but we know that he responds best to consistency and firm boundaries.  That means that time outs happen in the Lowe's plumbing aisle, Lightening McQueen is a very very special treat and Jer and I have daily talks about what we did right, did wrong and how we can improve.
7. What is your favorite food and drink during pregnancy? (Jeremy, you can chime in here too.)
Katie
First pregnancy: soft jumbo pretzels & hot vanilla chamomile tea.  This pregnancy: cold green grapes, donuts & chocolate milk.
Jeremy
Pizza & Dr. Pepper
8. Favorite book, tv show, and/or movie to enjoy while you are expecting? (If you even have time for these things!)
We watched everything with our first pregnancy…we had time.  Now?  Does Jungle Book 2 count?
9. Ok, last question. One look at the Bower Power Blog, and you guys seem like Super Parents. (Seriously, are there really only 2 of you?) You are running your blog, taking photographs, working on your house, raising one child while expecting another, and I am guessing there is even more going on. How do you do it???
We don't.  A lot of stuff gets pushed to the back burner.  We prioritize family time and project time above personal activity time, date nights and cleaning the house.  And sleep doesn't happen a whole lot either.  Our parents are extremely hardworking and they set amazing examples of how to put in sweat equity and invest in family.  From the outside, it may look like we are Super Parents but in reality, we are only super at two things - keeping our head barely above water and loving our boy
---
Great answers and great advice! I don't know about you, but I find the Bowers very inspirational.
Now, on to the baby pool contest details:
Celebrating the arrival of Baby Bower #2 wouldn't be complete without a baby pool. As part of this pool, we're tossing in some prize money! This pool is open to anyone, so go make your prediction!  (Sorry, prizes will only be sent to those in the continental United States):
1st place (highest total points): $100 Visa Gift Card
2nd place: $50 Visa Gift Card
3rd place: $25 Visa Gift Card
Last place (lowest total points): Surprise Gift Bag
The rules:
Guesses will be accepted through October 29, 2012 October 31, 2012 or until Katie goes into labor – whichever happens first.
All are welcome to take a guess, but only residents of the continental United States are eligible for prizes.
Winners will be determined by the point system outlined here.
baby pool
,
baby pool prizes
,
baby shower
,
baby shower ideas
,
blogging
,
Bower Power Blog
,
contest
,
expectant parents
,
Jeremy Bower
,
Katie Bower
,
parenting advice
,
pregnancy
,
pregnancy advice
,
pregnancy annoucement
,
The Bower Family
,
win