Baby Pool Template
Update March 13, 2013: Looking for individual cards to print out and give to each guest at your baby shower? You might like our printable baby prediction cards.
Update Jan 21, 2013: You can now use this paper template to gather predictions and enter the guesses on the website without asking people to sign up and enter the guesses on their own. Check out this post for details on the new feature.
At whatsinmybelly.com we have one goal: make great tools for expecting parents. When I started this website I wanted to make it as easy as possible to setup and run a baby pool. I think most people will want to use our website over the traditional baby pool organized with good ol' pen and paper. But in a world with 6.8 billion people, there has to be a few people out there who want to run a baby pool the old fashioned way. And according to Google there are about 1,600 searches for "baby pool template" every month. So, for those of you who prefer to print and write, here is our first printable baby pool template in PDF format.
I created this baby pool template using Adobe InDesign, and I'm making the PDF available as a free download: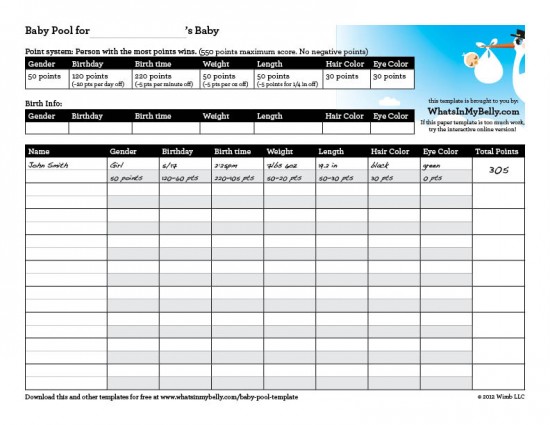 Now, there are many ways to run a betting pool of any type, and baby pools are no different. This particular template is set up to use a similar model as our baby pool website. It's point-based: each of the baby's stats (gender, birthday, time, weight, etc) earns points, so the closer your guess on each stat, the more points you earn. The person with the most points wins. Other people prefer a date/time grid and I'll create a template for that style soon.
How do you prefer to run a baby pool? Leave a comment to this post describing your preferred method and I'll create a template that fits your style of baby pool.
Adobe InDesign
,
Baby pool template
,
download
,
paper baby pool
,
PDF
,
printable baby pool template