Healthy Pregnancy Recipe: Ginger Chicken with Pineapple-Mango Salsa
Since I work from home and my wife is a nurse who works long shifts at the hospital, I end up doing a lot of the cooking. I'm not an extreme health fanatic, but like most expecting parents, I want to feed my family and unborn child heathy food. We all know it's important to get the best nutrition during the critical stage of pregnancy.
I frequently turn to websites like AllRecipes.com to find great meal ideas. One of our family favorites is Ginger Glazed Chicken with Pineapple Salsa. I've been fixing it for years and just about everyone who tries it, loves it. When my wife got pregnant for the second time we wanted to cook this one up, but this time around, I decided to change it up a bit and add in as many healthy ingredients as possible. It's already a healthy recipe to begin with, but I added a few extra ingredients to the salsa to make it more embryo-friendly:
finely chopped Red Pepper which is loaded with vitamins A, C and B6.
cubed Mango which is also packed with vitamins A and C, but gives the added punch of potassium.
Here is the full recipe:
ginger marinade Ingredients
6 boneless, skinless chicken breasts
1 1/2 tablespoons minced garlic
1 tablespoon grated fresh ginger
1 teaspoon ground black pepper
1/2 cup soy sauce (low sodium is recommended)
1/4 cup sesame oil
1/4 cup honey
1/4 cup vegetable oil
1/2 cup reserved pineapple juice
salsa ingredients
1 (20 ounce) can DOLE® Pineapple Tidbits, drained, reserving juice
1/4 cup red onion, finely chopped
1/2 cup fresh cilantro, finely chopped
1 teaspoon fresh lime juice
1/2 cup finely chopped red pepper
1/2 cup cubed mango
Directions
Combine first 8 ingredients ingredients except chicken, in small bowl. Place chicken in resealable bag. Pour glaze over chicken coating well. Marinate in refrigerator 4 hours or more. (I like to marinade this overnight.)
Combine salsa ingredients in bowl and refrigerate if you're not eating it right away. If you let this sit for a while, the flavors start to mingle and intensify. (Side tip: if you have extra red pepper, cut it into slices and save it as a healthy snack.)
Heat grill to medium-high.
Drain chicken. Pour marinade into small saucepan. Bring to a boil; boil 2 minutes.
Grill chicken; covered, 6 minutes. Brush with marinade, turn and cook 8 minutes or until internal temperature reaches 165 degrees F in thickest part of chicken. Baste several times while cooking

Serve with heaping portions of salsa.
This recipe is great over white or brown rice. You could also try it out with cous cous. Add a side of veggies and you've got a super healthy meal that you'll actually enjoy eating. Even my two year old enjoyed this one – just push the idea of the pineapple and you can't go wrong with almost any child.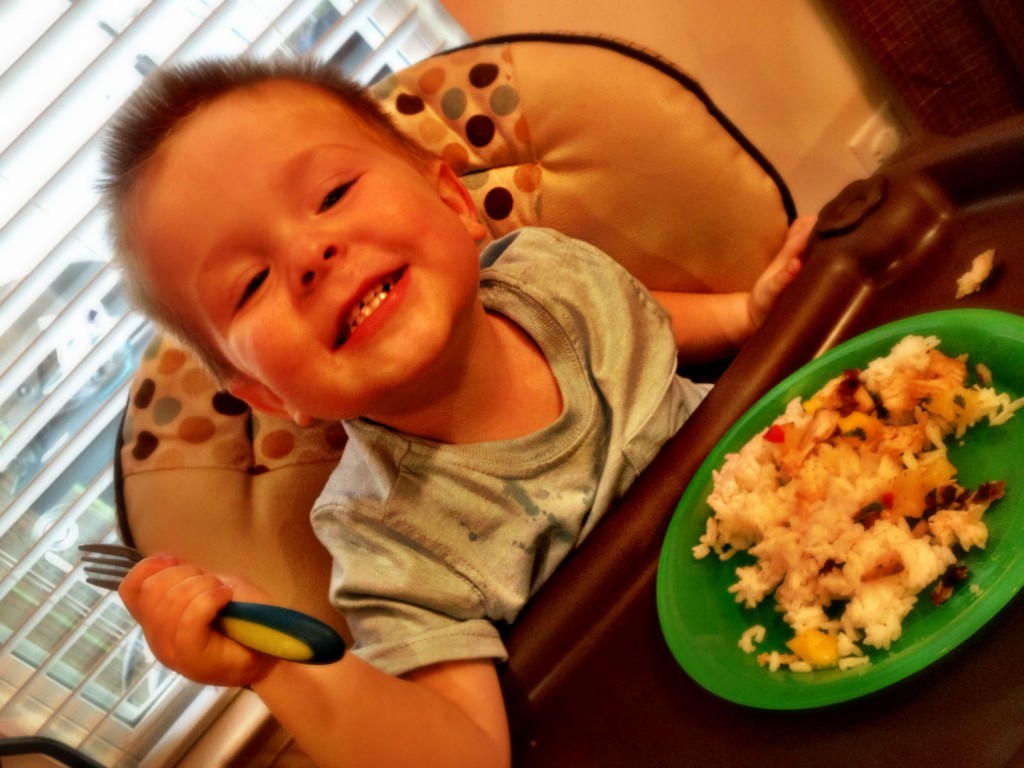 cooking
,
eating during pregnancy
,
ginger chicken
,
grilled chicken
,
healthy
,
pregnancy
,
pregnancy cooking
,
pregnancy recipes
,
recipe
,
recipes
,
red pepper
,
salsa